Guess who decided to take up a new challenge for this month. That's right I'll be posting on a daily basis doing the 31 Days of Ghibli Challenge! Join me in my adventure on taking on this challenge and hopefully finish it on time.
I've been debating on which challenge I should try out and I've been seeing others do the 31 Days of Ghibli Challenge and thought why not join in and try it out as well. I have been a fan of Studio Ghibli films ever since I was young and thought this would be a perfect challenge for me to do.
I saw this challenge from The Spooky Red Head which you should also check out and thought why not try it out. This challenge was based on one of the few challenges on the Amino App but Laurel's Code made this specific version which you should also take a look on!
Also did I mention this is my first challenge? Yup! This is my first ever challenge in this blog as well so I hope you bear with me and enjoy the daily post that will be happening for this month. I will still be doing reviews so don't worry about that.
Now let's see the challenges per day shall we?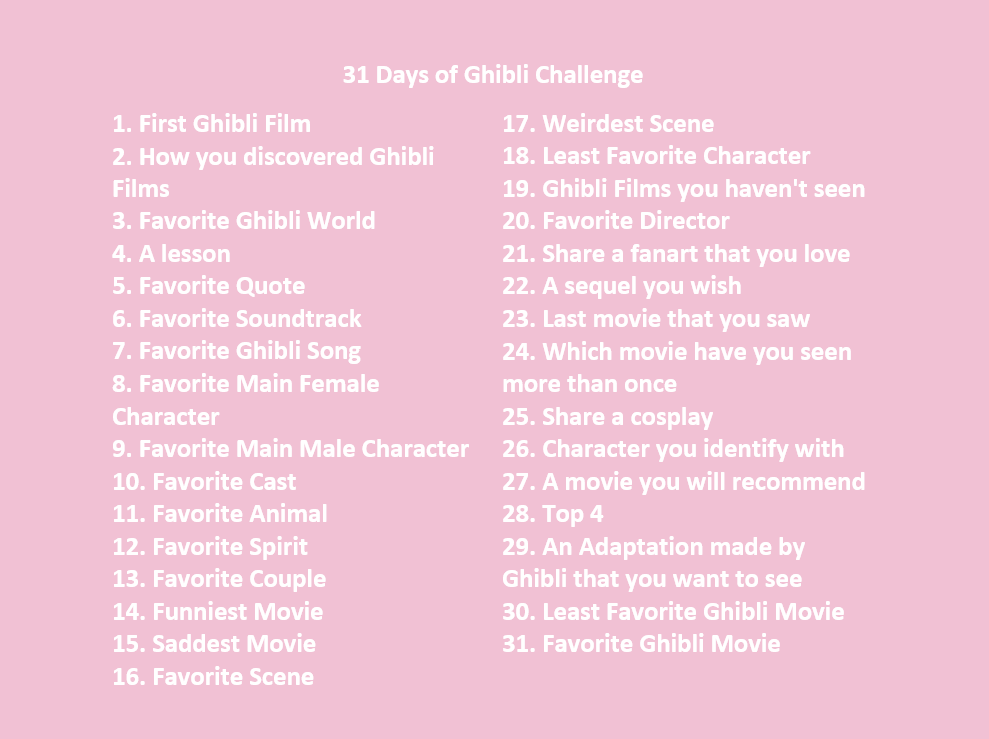 There are some days that I'm excited to write already, I'll be scheduling them after I write this post and there are some which I think I'll have a hard time thinking about, so if you're interested in my answers for the following challenges make sure to stick around and follow Sakura's Galleria!
Also! I'll be linking all the days on this post. I'll make sure to update this post each day that I post for the challenge for those readers that are interested in knowing my answers.
See you next time!
Click here to follow my twitter for future blog updates!
Click here to follow my tumblr blog for pictures and random posts!
Here's the Progress!
Don't worry this will be updated every day I do the challenge. This will help keep organize all the days and for you, viewers, to have an easier time catching up! So make sure to come back here tomorrow to see the new post!
Day 1: First Ghibli Film
Day 2: How You Discovered Ghibli Films
Day 3: Favorite Ghibli World
Day 4: A Lesson
Day 5: Favorite Quote
Day 6: Favorite Soundtrack
Day 7: Favorite Ghibli Song
Day 8: Favorite Main Female Character
Day 9: Favorite Main Male Character
Day 10: Favorite Cast