Hello everyone! Today is the first of September and I decided to make a blog dedicating for the special event for today. If you're wondering what that is then keep on reading! I'm just joking, it's actually my birthday.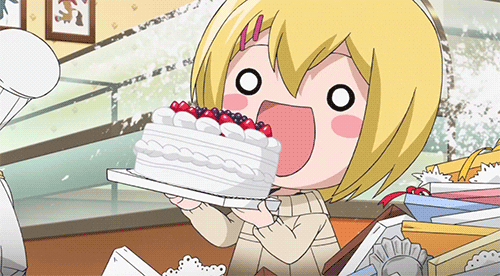 Yes, you read it correctly today marks my 19th birthday.It also means I'm one year away to no longer being a teen. And for today's post I decided to mix it up and make it a bit special, this will be a personal blog post but it'll be in anime themed of course!
Our blog is practically new to this community and we plan on being able to interact and build a relationship with our audiences, so in this post you'll be learning a bit more about me.
Let's start with a list of fun facts about me.
I used to have a personal blog here in wordpress but I took it down because I wasn't able to post as much blogs as I would love to. I would link it here but sadly I deleted the site back then.
I am currently in my first year in college taking IT specializing in Mobile and Internet Technology. My first choice would be taking Multimedia Arts but I decided to take IT because in where I'm from there are more available job choices, and it's difficult to become an artist in where I'm from. Income is a bit important to me because I would have to support my family after I graduate and get a job.
I do have an addiction to anything cute, this includes notebooks, stationary, and stuff animals. My guilty favorite colors would be light pink, baby blue and a pastel yellow.
I have cosplayed once a few years ago as a maid, and I do have a few cosplans in mind once I have the money to do so. I'm not as good as a cosplayer if you guys are wondering but I find it fun being able to dress up as your favorite character every once in a while.
I'm very introverted, I'm not as confident in confronting or talking to other people, sometimes I find this being in the way for my future, it comes to the point where I'm too scared to even order in line in fast food restaurants, it doesn't sound that bad but in my thinking it feels like I have to overcome this soon.
I do have a list of phobias, I'm scared of being in the dark, I'm scared of closed spaces where I can't see an exit, I'm scared of falling. I do have a few ridiculous once which are I'm scared of stairs, only because I'm scared I would fall, and my friends would be kind enough to hold my hands when I have to go up or go down a long flight of stairs.
Those are a list of fun facts about me and I hope this is a way for you guys to get to know me better. I do want to have a interactive blog experience, where I would be able to interact with you, the viewers.
But that's all for today and I hope you enjoy today's creative blog! Happy birthday to me, this will be posted the next day, yes I'm writing this a few hours before my birthday starts, and I will be sure to eat lot's of cakes and sweets for today.
See you next time!
Click here to follow my twitter for more future updates!
Click here to follow my tumblr blog for pictures and random posts!